This Space Café Scotland will feature movers and shakers from the Scottish Space Ecosystem in conversation with Angela Mathis, CEO of ThinkTank Maths and a friend of SpaceWatch.Global.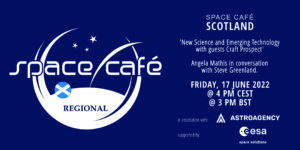 New Science and Emerging Technology with guests Craft Prospect
Join our next Space Café Scotland with Steve Greenland, founder and Managing Director of Craft Prospect to hear about emerging innovative Quantum and AI tech to support innovative, automated and efficient small satellite missions being manufactured locally in Scotland!
This Space Café Scotland will be conducted in English and is brought to you in partnership with a strategic space marketing firm, AstroAgency, supported by ESA Space Solutions.
SpaceWatch.Global is a Europe-based digital magazine and portal for those interested in space and the far-reaching impact of the space sector.
The audience will have an opportunity to ask questions.
This Space Café Scotland will be conducted on 17 June 2022 at 4 pm CEST/3 pm BST.
Reserve your place today.