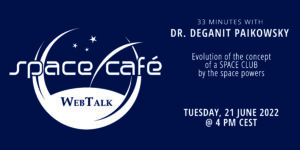 This Space Café WebTalk will feature Dr. Deganit Paikowsky, Faculty at the Department of International Relations, Hebrew University of Jerusalem, in conversation with Torsten Kriening, publisher of SpaceWatch.Global.
Evolution of the concept of a Space Club by the space powers
In light of the profusion of actors and growing trend toward space commercialization, as well as the rise in great power tension and competition, what are the implications for the future of the space club? And what does it mean to the concept of space power?
The strategic importance of space in world politics remains high, and membership in the space club is still a value in the eyes of many countries in the international system. However, the concept of what is space power and how it may be achieved undergoes a fundamental change.
Space power shifts from focusing on technological achievements to focusing on sustainable and meaningful social and economic presence in space. It means a change in the club goods, threshold, privileges of membership, and identity of its members.
Dr. Deganit Paikowsky is experienced in the interface and interrelations between world politics and technological domains, specializing in space, cyber and emerging technologies. She combines academic research with hands-on experience. Deganit is faculty at the Department of International Relations, Hebrew University of Jerusalem, and a Non-Resident Scholar at the Space Policy Institute of the Elliott School for Foreign Affairs, George Washington University. She also serves as a Vice President at the International Astronautical Federation (IAF) on behalf of the Israel Space Agency.
The audience will have an opportunity to ask questions in dialogue with Dr. Deganit Paikowsky.
SpaceWatch.Global is a Europe-based digital magazine and portal for those interested in space and the far-reaching impact of the space sector.
This Space Café WebTalk will be conducted in English on 21 June 2022 at 4pm CEST.
Reserve your place today.