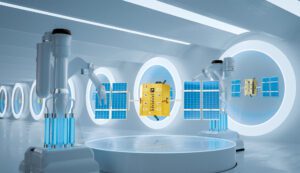 Edinburgh / Xichang, 3 June 2022. – Low-orbit commercial satellite developer and operator Geespace, a wholly owned subsidiary of the Geely Technology Group, has successfully launched its first nine satellites into low Earth orbit to be utilized by Geely Holding's automotive partners, the company said.
Geespace confirmed that it connected the first nine GeeSAT-1 satellites which are all functioning as expected. These satellites are part of the Geely Future Mobility Constellation of 240 satellites. The company is planning to place the first 72 sustainable spacecraft with a five-year lifespan into orbit by 2025.
GeeSAT-1 satellites are modular, high-resilience, high-performance, mass-produced low-orbit satellites providing precise positioning and connectivity support. The spacecraft will be utilized by automotive brands in the Geely Holding portfolio, enabling safe autonomous driving that will connect vehicles and infrastructure.
Future applications of the GeeSAT-1 satellites include logistics- and maritime monitoring, high-precision positioning, remote sensing, and satellite communication services. Initially, services will only be provided to the Chinese and the Asia-Pacific markets with plans for global expansion after 2026.
Geely's Intelligent Satellite Production and Testing Centre has an annual production capacity of 500 units. GeeSAT-1 is only the first of many commercial satellite models from Geespace.