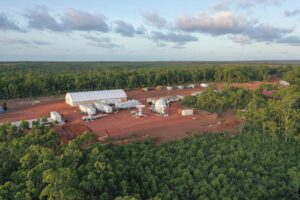 Edinburgh, 8 June 2022. – Equatorial Launch Australia (ELA), the developer, owner and operator of the Arnhem Space Centre (ASC) on the Gove Peninsula in Australia's Northern Territory, will be making Australia's first commercial space launch on 26th June with its client, NASA, ELA said.
The launch vehicle is a BBIX rocket that will carry an atmospheric observation and a sensing platform to observe the Alpha Centauri A & B constellations. The rocket's first stage and payload will both re-enter the atmosphere for recovery.
The launch will be NASA's first from a fully commercial spaceport and will be followed by two further launches planned for 4th and 12th July. Both these missions will aid astrophysics studies that can only be done from the Southern Hemisphere. The ASC is located 12 degrees south of the Equator on the Gulf of Carpentaria and offers unique benefits for space launches, ELA said. The ASC just received their Launch Facilities Licence and the Launch Permit for NASA's three deployments from the Australian Space Agency. 
ELA is planning on constructing additional, larger launch pads to accommodate rockets suitable for bigger payloads. The company is already in discussions with nine major rocket companies, and hopes to conduct at least two further launches in 2022. ELA aims to ramp up its launch cadence to over 50 launches per year by 2025.