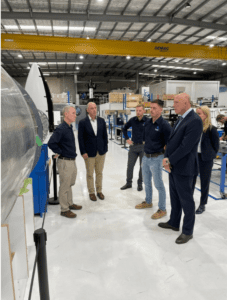 Edinburgh / Gold Coast, 9 May 2022. – Australian space company, Gilmour Space Technologies, announced that it has been selected to develop and launch a new sovereign surveillance satellite for the Department of Defence, as part of the government's AU $7 billion investment in new space capabilities.
The AU $15 million partnership is in line with Australia's recently released Defence Space Strategy. The Department of Defence is closely engaged with the Australian Space Agency and the country's industry "to develop and supply sovereign space surveillance and mission system capabilities," Australia's Minister for Defence, Peter Dutton said.
The surveillance satellite will be used to counter threats and assure continued access to space-based intelligence. The prototype G-class satellite will launch aboard Gilmour Space's Eris in 2023.
Gilmour Space launched the country's first privately developed hybrid launch vehicle using 3D printed rocket fuel. Since starting its rocket program in 2015, the company has grown into a firm with 140 employees.