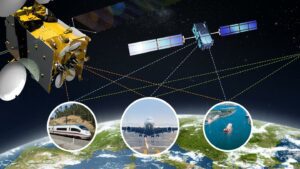 Edinburgh / Ottobrunn / Toulouse, 4 May 2022. – Airbus Defence and Space and its EGNOS V3 system has passed an initial service performance review successfully. The program is managed under a partnership agreement between the European Commission's Directorate-General for Defence, Industry and Space, the European Union Agency for the Space Programme and ESA.
European Geostationary Navigation Overlay Service (EGNOS) is part of the European Union Space Programme and is Europe's regional Satellite-Based Augmentation System. It is used to improve the performance of navigation satellite systems for safety-critical applications, the company said. The new V3 generation is currently under development and it will enable new services as well as integrate security protection against cyber-attacks.
The review confirmed that EGNOS V3 is capable of delivering the required accuracy, continuity, integrity and availability. The technology will be suitable for critical navigation services, such as precision approach and landing anywhere in Europe.
EGNOS V3 will also make use of both Galileo and GPS signals to monitor ionosphere-induced position errors. These new features make satellite navigation landing possible without requiring dedicated ground systems.