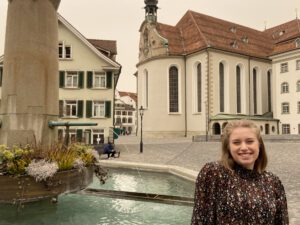 Day 1 of Module 1 of the Space for Business course saw us begin a journey of merging academic knowledge with practical knowledge from the field. Our day started in the afternoon on the fourth floor of the Einstein Congress Centre, with a view of the city of St. Gallen. Slowly, the room filled with participants coming from the UK, France, Netherlands, Portugal, Germany and Switzerland. These participants work at ESA, EUSPA, space offices, deep space operations or consultancy.  All with a case of the "space disease" as Dr. Andreas Wittmer stated, an immense passion for space.
The lectures began with an initial introduction to space systems, the difference between complex and complicated, leading to explanations of how this can lead to the creation of conceptual frameworks.
The context of space is that everything is changing, at quite a rapid pace. Alongside positive developments of space activities setting records in terms of private transactions, government investment, orbital launches, payload deployments and civilians in space, the other side of the coin shows several growing threats including uncontrollable exponential growth, space debris, aggressive geopolitical behavior, and ozone layer depletion due to reaction with propellant.
The presentations were very informative and managed to cover a broad scope, detailing the role of government in space, policy and regulations, new up- and downstream space market, opportunities in the new space economy, and the developments surrounding the move from a state-run to a state and company-run space environment. However, it appeared to be very cumbersome to find methodologically sound sources on space investment numbers. There was a large focus on ESA's functions, with many speakers focussing on the fact that ESA is to be considered a procurement agency.
A recurring question, what is a space company – many ideas, no clear definition – an answer that will be shaped throughout the course and that, according to Niels Eldering, is a growing definition. Stay tuned for answers we will be receiving throughout the course of Module 1.  
A key takeaway for me was to see the expertise of all participants in action, highlighting the direct link between the presentation context and the real-world applicability. The networking opportunities with participants and lecturers open doors to new ideas, collaborations, and food for thought.
The outlook for this week will be funneling the broad introductions of concepts and the overview of space systems to narrowing down concepts and ideas to create our impact project. In the personal impact project, we (the participants) apply insights from the modules to our own business to have real impact on our organization and within our role.
Stay tuned for more! 
Yours,
Chiara