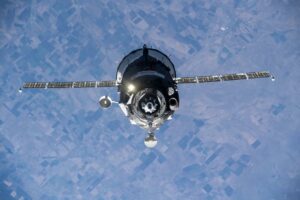 Edinburgh, 15 March 2022. – Russia's space agency, Roscosmos says it will return US astronaut Mark Vande Hei to Earth as scheduled, on board the Soyuz MS-19 spacecraft together with cosmonauts Anton Shkaplerov and Pyotr Dubrov on March 30th.
Speculation to the contrary emerged earlier based on geopolitical tensions between Russia and the US after Russia's invasion of Ukraine. The invasion resulted in the US and other nations imposing economic sanctions on the country. In turn, Roscosmos pulled out of several research and commercial launch partnerships.
NASA confirmed yesterday that they were in continuous communication with Roscosmos. The agency said that the plan to bring the three astronauts back to Earth together had not changed. About 20 NASA employees will be welcoming Vande Hei after touchdown in Kazakhstan. After assessing his physical condition after nearly a year spent in microgravity, he will be sent back to Houston.
NASA also said that the morale and professionalism among the four American, two Russian and one German astronaut currently serving on the ISS were not affected by the situation on Earth. The various systems of the ISS are highly interdependent, so should a key partner leave the program, going forward would be very difficult, NASA says.
Roscosmos stressed that the ISS crew's safety was its "top priority". Nonetheless, head of Roscosmos Dmitry Rogozin a few days ago said that if the sanctions on the country were not lifted, the ISS may "fall down into the sea or onto land". He argued that if the Russian segment of the station was disrupted, the 500-tonne structure would have nothing to correct its orbit.