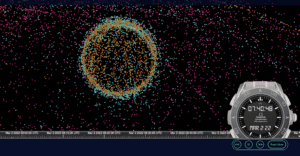 Edinburgh / Maui, 2 March 2022. – Privateer, co-founded by Steve Wozniak (Apple), Alex Fielding (Ripcord, Apple), and Dr. Moriba Jah (University of Texas at Austin), has formally come out of stealth mode to launch its proprietary knowledge graph technology to map and track space debris and satellites in Earth orbit, the company said. The firm's aim is to create a vital data infrastructure for sustainable new space economy. 
The proprietary knowledge graph technology is built on Privateer's unique data engine. The application, named Wayfinder, provides an open-access, near real-time digital catalogue of satellites and space debris orbiting the Earth. 
The company's data mapping system will include ground-based capabilities from strategic partners and its own space-based sensors. Privateer's services will be useful when it comes to deorbiting, refueling, tugging, along with a lot more on-orbit services. The accurate, near real-time data will enable operators to maneuver safely and effectively in congested orbits.