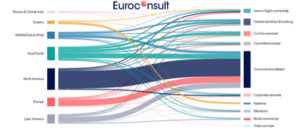 Edinburgh / Paris / Washington / Montreal / Yokohama / Sydney / Toulouse, 24 March 2022. – Euroconsult has released the 6th edition of its High Throughput Satellites (HTS) report, an in-depth analysis of geostationary (GEO) and non-geostationary (NGSO) HTS markets. The report is extended to major drivers, strategic issues, competitive landscape and detailed forecasts of capacity supply and demand.
HTS have reshaped the satellite communications industry with ever-improving capacity and cost per bit. Global HTS capacity supply is expected to grow over the next five years surpassing 60,000 Gbps (60 Tbps). NGSO broadband constellations play a big part in this growth. It is projected that these will account for about 90% of capacity supply by 2026. 
SpaceX's Starlink low Earth orbit constellation alone led to a 350% expansion of global HTS capacity supply last year. OneWeb and SES are to enter initial service this year, further increasing this number.
Euroconsult's analysis suggests that global capacity demand will average 28% on an annual basis through 2030. The consumer broadband segment is predicted to account for nearly 60% of net capacity growth globally.