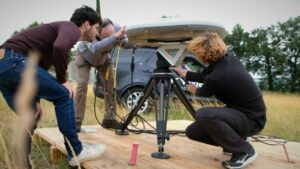 Edinburgh, 25 March 2022. – Washington-based mobile connectivity company Kymeta, has signed a distribution partner agreement with OneWeb to offer satellite broadband services around the globe, Kymeta said.
The agreement enables Kymeta to resell OneWeb services to government and commercial customers globally. The new Kymeta service will offer OneWeb satellite connectivity, or a package also including connectivity from geostationary satellites.
The two companies have previously agreed to adapt Kymeta's u8 flat-panel antenna system to support communications with OneWeb's satellite constellation. Last week, Kymeta closed on an additional equity funding totaling approximately US $84 million led by Bill Gates. The funding will be used to accelerate the production of the company's flat-panel antennas and expand its services.
Kymeta has also announced new product branding according to which the commercial connectivity terminal will be known as the Hawk u8. The terminal for government applications will be Goshawk u8, and the one for military applications will be called Osprey u8.
Kymeta also signed a partnership agreement with mobile and fixed satellite solutions provider IP Access International. The partnership will allow the co-development and distribution of optimized solutions to first responders across North America.