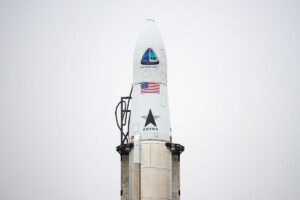 Edinburgh / Washington, 17 March 2022. – Astra launched its Rocket 3.3 vehicle from Alaska on Kodiak Island, successfully placing several payloads into sun-synchronous orbit at an altitude of 525 km. An attempt the previous day had to be cancelled due to bad weather conditions.
The liftoff and ascent went as planned, however, there was no immediate confirmation of payload separation. Over an hour after liftoff, Astra confirmed the payloads were communicating with ground stations and separation was successful.
The mission was the first in a multilaunch agreement with launch services provider Spaceflight, and carried payloads for three customers. These included EyeStar-S4, developed by NearSpace Launch, which remained attached to the second stage to test intersatellite communication technologies. The second payload was a cubesat, OreSat0, developed by the Portland State Aerospace Society. The third payload and customer, have not been identified by either Astra or Spaceflight.
Astra's previous launch in February ended in failure, carrying four NASA and university cubesats. Investigations showed an electrical design issue with the payload fairing as well as a software glitch with the thrust vector control system on the second stage.
The company is planning three more launches this spring. These will carry cubesats for NASA's Time-Resolved Observations of Precipitation structure and storm Intensity with a Constellation of Smallsats (TROPICS) Earth science mission.