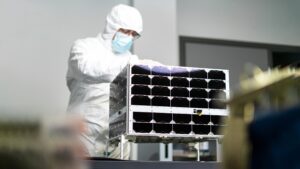 Edinburgh / Columbia, 3 February 2022. – Turion Space has selected NanoAvionics' small satellite bus MP42 as the basis for its Droid-1 spacecraft.
Droid-1 is designed for reconnaissance missions in low Earth orbit (LEO) and is to launch in Q1 2023, the Illinois-based company said.
Turion Space wants to build a spacecraft to remove orbital-debris, service satellites, and improve domain awareness. Future generations of the spacecraft will be able to remove space debris from LEO, and will be capable of in-orbit satellite servicing while providing orbit-modification and inspection.
Droid-1 will be capable of taking extremely accurate measurements of space objects using its onboard sensors, Turion says. The data will point operators and users to the exact location of satellites and in relation to others. This comes in handy especially when two spacecraft are critically close.
Droid-1 can provide more precise measurements than ground systems such as radars and telescopes, the company claims. Ground systems cannot differentiate between closely spaced objects accurately, if at all, and weather conditions and geographic accessibility affect their performance.