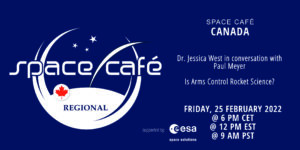 This Space Café Canada will feature Paul Meyer, former Canadian Ambassador for Disarmament, founding member of the Outer Space Institute, and currently a Fellow in International Security at Simon Fraser University in Vancouver, in conversation with Dr. Jessica West, Senior Researcher at Project Ploughshares and a friend of SpaceWatch.Global.
Is Arms Control Rocket Science?
As another initiative related to arms control in outer space gets under way at the United Nations, we are compelled to ask: why has this been so hard?
This episode of Space Café Canada will feature Paul Meyer, whose work on arms control in outer space spans diplomatic, academic, and advocacy efforts. As Canada's Ambassador and Permanent Representative to the Office of the United Nations and the Conference on Disarmament (CD) in Geneva from 2003 to 2007 and the CD's Special Coordinator for its agenda item Prevention of an Arms Race in Outer Space (PAROS) in 2007, Paul is uniquely placed to help us understand why, more than 40 years after arms control in outer space was first discussed at the UN General Assembly, so little progress has been made. But while Paul has been witness to numerous setbacks, he has also seen opportunities for progress, including the upcoming Open-Ended Working Group on norms of responsible behaviour in outer space.
More and more weapons systems that target objects in outer space are being developed and tested, so the stakes are high. Join us for an in-depth discussion on the past, present, and future of arms control in outer space. It's not rocket science … or is it?
This Space Café WebTalk will be conducted in English on 25 February 2022 at 6 pm CET.
We like to thank ESA Space Solutions for their continuous support.
Reserve your place today.