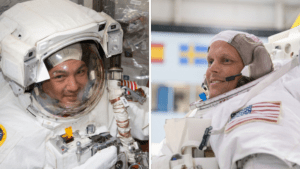 Edinburgh, 7 February 2022. – NASA and SpaceX provided an update on the preparations of the Crew-4 mission to the International Space Station (ISS) with NASA astronauts Kjell Lindgren, Robert Hines, Jessica Watkins, and ESA astronaut Samantha Cristoforetti.
Lindgren will serve as spacecraft commander, Hines will be the pilot, while Watkins and Cristoforetti are assigned as mission specialists. The agency and SpaceX also commented on recent landing issues.
Teams observed delayed opening of a single main parachute during both the Crew-2 and the CRS-24 cargo mission re-entry. Mission teams jointly review the data as well as perform physical inspection of the drogue and main parachutes after each flight, NASA said.
After having carried out thorough examinations, NASA and SpaceX concluded that the lagging did not pose a safety risk. The delay may have been due to the aerodynamics of the parachute systems, and further examinations would follow.
Crew-4 is to launch 15th April as planned to spend six months on the ISS.