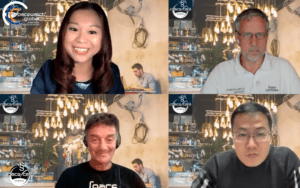 In the latest Space Café "Law Breakfast with Steven Freeland", Steven Freeland and Torsten Kriening welcomed Gerardine Goh Escolar and Guoyu Wang at the wonderful 'My Awesome Café in Singapore.
Over pastries, cookies, sandwiches, croissant together with kopi-o and coffee, the panellists, along with a fantastic audience, engaged in a revealing and insightful discussion dealing with many legal questions arising from everyday space activities, including the following:
How do we deal with the ever-increasing collision risks that arise by virtue of space debris but also the exponential growth in the number of space objects being launched into space?
Should national regulators be more 'globally' focused and perhaps less parochial when determining applications by those under their jurisdictions to launch large constellations of small satellites into 'popular' orbit?
As Artificial Intelligence (AI) becomes more pervasive in the design and functioning of space activities, how will the existing legal structures cope with incidents that involve space objects where there is minimal (or even no) 'human in the loop' involvement?
What role do ethics and morality play in the design and functioning of space technology and by whose/what standards are those concepts to be measured?
Who bears the responsibility for monitoring adherence to those ethical and moral standards?
And sooooo much more……
Geri and Guoyu also gave their 'one word' to describe the wonders of space/space law – a tradition for all guests at our Space Café Law Breakfasts. Space law certainly means many things to many people and is such an interesting and relevant concept, to lawyers and non-lawyers alike.
On the 55th anniversary of the day on which the Outer Space Treaty was opened for signature, we also celebrated the 266th birthday of a famous composer with links to space (think 'Jupiter Symphony' and aria from 'Magic Flute' on the Voyager Record!) – as well as the ??? birthday of Valentin Eder, who was in the audience.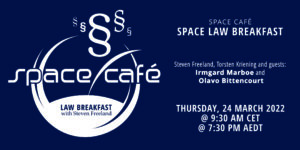 We hope that you will enjoy this discussion and will already note in your diary to join us in Sao Paulo (or maybe Vienna) for the next Space Café "Law Breakfast with Steven Freeland" on 24 March 2022, on the eve of the UNCOPUOS Legal Subcommittee Meeting, with our fabulous guests, Irmgard Marboe and Olavo Bittencourt. There will be so many issues to discuss.
Please let us know if there is a particular event or issue that you want our expert panel to help to 'demystify'. We are always interested in your views and suggestions.
We really hope you will join us for breakfast in March! See you then!
This Space Café "Law Breakfast with Steven Freeland" was held on 27 January 2022.
SpaceWatch.Global
 is a Switzerland-based digital magazine and portal for those interested in space and the far-reaching impact of the space sector.
Here is the video: