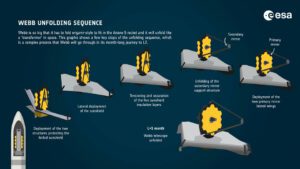 Edinburgh, 10 December 2022. – The James Webb Space Telescope team successfully deployed the telescope's 6.4-metre long gold-coated primary mirror, completing the final stage of deployments, ESA reported. Science operations are due to start this summer.
The two wings of Webb's primary mirror had to folded to fit inside Ariane 5's fairing. After more than a week of deployments, the Webb team began remotely unfolding the largest mirror ever launched into space. 
The process to unfurl the hexagonal mirror segments was a multi-day process that ended with deploying the starboard-side mirror. All deployments have now been declared complete by the Mission Operations Center ground control at the Space Telescope Science Institute.
The next step for JWST while travelling to L2 (Lagrange point 2), is to align the telescope optics. The alignment process will take months after which the science instruments will be calibrated.
Webb will reach L2 – 1.5 million km from Earth – with a third mid-course correction burn.  JWST will look back over 13.5 billion years in time with higher resolution than any spacecraft ever before.