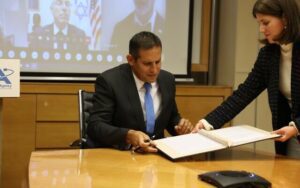 Edinburgh, 27 January 2022. – Israel signed onto Artemis Accords to land astronauts on the Moon and establish a long-term human presence there as a base for future Mars missions, the country's Ministry of Innovation, Science and Technology announced.
The Artemis program establishes principles of cooperation, sustainable human presence on the lunar surface and space exploration in general.
Israel is the 15th country to join Artemis led by NASA in partnership with ESA, and US commercial spaceflight operators. The agreement will enable Israel to seek new space research collaborations with other participating countries.
Artemis 1, the first unmanned test flight of NASA's SLS rocket, is scheduled for March this year. Artemis 2 is scheduled for 2023, Artemis 3 for 2024, while a Moon landing is expected in 2025.
Meanwhile NASA has selected 12 companies to provide launch services for the agency's Venture-Class Acquisition of Dedicated and Rideshare (VADR) missions. Award selections include companies such as Spaceflight, Blue Origin, Northrop Grumman, Relativity Space, Rocket Lab and Virgin Orbit. 
The fixed-price indefinite delivery and quantity contracts have a maximum total value of US $300 million across all contracts. The acquisition includes a provision that enables further providers to submit proposals for new capabilities in the future.