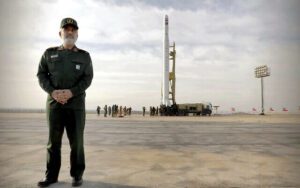 Edinburgh / Tehran, 3 January 2022. – Amid ongoing negotiations in Vienna over the country's nuclear deal, Iran announced that it launched a Simorgh rocket with three research devices into space. It was not specified what the devices were or what they would be used for.
Ahmad Hosseini, spokesperson for the Iranian Defense Ministry said that the devices were sent up to a 470 km altitude. It is unclear, however, if the objects launched as part of the Islamic Republic's civilian space program, reached orbit. 
Iran claims its launches and rocket tests have no military component and they have not violated the UN resolution. This calls on the country to refrain from activities related to missiles capable of delivering nuclear weapons.
Iran's paramilitary Revolutionary Guard runs its own parallel space program and successfully deployed a satellite into orbit last year. The country has sent several spacecraft into orbit so far and they even launched a monkey into space in 2013.