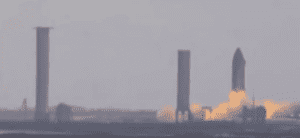 Edinburgh, 3 January 2022. – Elon Musk said during an interview on the Lex Fridman podcast that SpaceX could be transporting people to Mars in five years. According to the SpaceX CEO, the worst case scenario is that the Starship rocket is ready for taking humans to the planet in 10 years.
Starship, "the most complex and advanced rocket" as per Musk, has already undergone static fire tests. However, the maiden flight will not go ahead before March, due to an FAA environmental review. SpaceX is constantly making engineering and design changes to the vehicle to fine tune it and to cut down prices. Musk said that currently, US $1 trillion would not be enough money for a ticket to the Red Planet.
Cutting "cost per ton" prices of Starship is not the only problem that needs to be solved though. Establishing self-sustaining cities on Mars will not come cheap either. Musk's vision is a colony utilising solar-powered hydroponic farms underground to grow food.
Musk plans to make the human race multi-planetary by building 1,000 Starship rockets, launching three a day, to fly a million people to Mars.