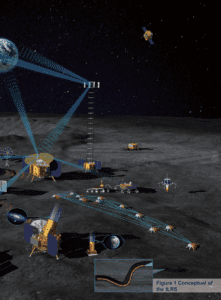 Edinburgh, 31 January 2022. – The China National Space Administration (CNSA) has confirmed the country will be joining forces with Russia to build a research Moon base by 2035. The station will rival NASA's Lunar Gateway.
Russia and China announced the project in June last year, after signing an intergovernmental memorandum of understanding in March 2021. The International Lunar Research Station (ILRS) will comprise an orbiter, a base on the lunar surface, and multiple exploration rovers. The Lunar Gateway on the other hand will only be orbiting Earth's natural satellite.
The project is still open for other countries to join. The ILRS will be a multidisciplinary and multipurpose research facility. In the next five years, the country is planning to launch 3 missions to the Moon. 
The first will be Chang'e-6, launching a lunar probe collecting samples from the polar regions of the lunar surface. The second mission, Chang'e-7, will deploy another probe to carry out hopping detection of shadowed areas in polar regions. The third one, Chang'e-8, will mark the start of the building of the Moon base.