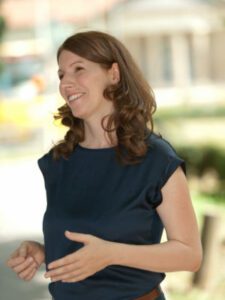 Hambourg/ Stuttgart/ Berlin, 6 January 2022. – The new German government has nominated Anna Christmann from Bündnis 90/Die Grünen as Coordinator of the Federal Government for German Aerospace.
Christmann succeeds Thomas Jarzombek from Düsseldorf, member of Bundestag since 2009 for the christian democrats CDU. The aerospace coordinator sits within the Ministry of Economy and Climate Protection in Berlin.
Christmann was member of German Bundestag for a Stuttgart constituency and spokesperson for Innovation & Technology and Civic Engagement since 2017, re-elected in 2021. She is member of the Committee for Education, Research and Technology Assessment and deputy member of the Digital Committee since last year and is member of Bündnis 90/Die Grünen since 2003.
Christmann was born in Hannover, Lower Saxony, in 1983 and studied political science, economics and mathematics in Heidelberg. From 2008 to 2013, she did a doctorate on "The Limits of Direct Democracy" at the University of Bern (Switzerland) and the University of California in Irvine (U.S.) and worked at the Center for Democracy at the University of Zurich.
From 2013 to 2017, she was heading the office of the minister of science of the government of Baden-Württemberg in Stuttgart.