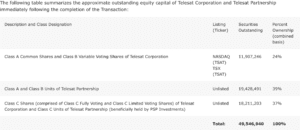 Luxembourg/ Ottawa, 23 November 2021. – The Canadian satellite operator Telesat now is a public company listed and traded on Nasdaq and the Toronto Stock Exchange, the company announced last week.
The listing follows the closing of Telesat's previously announced transaction with Loral Space & Communications and the Public Sector Pension Investment Board in which Loral's stockholders and Telesat Canada's other equity holders exchanged their interests for equity in Telesat's new public holding structure, Telesat said.
Telesat Canada and Loral have become subsidiaries of Telesat Corporation, the Canadian controlled and incorporated public holding company formed in connection with the Transaction.
Telesat Corporation will continue to be led by Telesat's President and Chief Executive Officer Dan Goldberg, the company said.