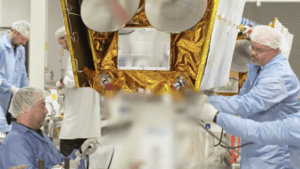 Edinburgh, 23 November 2021. – OneWeb reported that one of their broadband satellites launched early last year suffered a software failure. The failed spacecraft, orbiting at 1200 km, will be de-orbited. Other satellites in the fleet were successfully updated from the ground.
OneWeb carried out 11 launches over the past year and currently has market access rights in 38 countries. The company has 358 satellites in orbit at the moment and this number is to grow to 650 by late 2022.
OneWeb recently paid paid US $49.3M in assorted fees to bankers and lawyers who gave the company financial advice. The advice was regarding cash investment from the UK government and India's Bharti Global which rescued them from bankruptcy.
OneWeb is now in the development and launch so it is not recovering cash from user access. The business closed last year with a loss of US $58.3M.