By Tomas Hrozensky, ESPI
As part of the partnership between SpaceWatch.Global and the European Space Policy Institute, we have been granted permission to publish selected articles and briefs. This is a summary of the EPO/ESPI/ESA Patent Insight Report "Quantum technologies and space", originally published on 2 November 2021.
In 2020, the European Patent Office (EPO) and the European Space Policy Institute (ESPI) in collaboration with European Space Agency (ESA) have initiated a partnership through a series of space-themed "Patent insight reports". These publicly available studies analyse global patent filing data to identify major trends and developments in specific sub-domains of the space sector.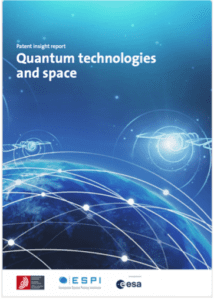 The second study resulting from this partnership titled "Quantum technologies and space" has been published on 2 November 2021. This new study addresses space applications of quantum technologies. The first study of this series, exploiting patent filing statistics in the domain of Cosmonautics, was published in July 2021.
The Patent Insight Report "Quantum technologies and space" notes that exploitation of Quantum technologies in the space environment is a very specific use case of the technology but one that is being increasingly explored, as evidenced by several recent satellite missions.
Primary uses of Quantum technologies in the space environment are in secure communications, in time and frequency transfer, and in Earth sensing and observation. In the patent filing analysis, the study considered three key quantum technologies that enable these main applications:
quantum key distribution
cold atom clocks
cold atom interferometers
Why this topic? Quantum and space domains have both become strategically important technology sectors for major powers around the world, including for European countries and the EU.
Why this approach? Exploitation of patent databases and can reveal new insights into sector trends and support informed decision-making processes. Patents provide means of observing technology trends, key innovators and policy impacts.
What have we learnt? The analysis of global patent filing data over a 20-year period (2001 – 2020) has yielded several key findings:
Space applications of quantum technologies are a fast-growing domain, with patent filings increasing by more than 400% over the last five years.
This growth is driven primarily by innovation in quantum key distribution, which accounted for the majority of the analysed dataset (78%).
At the same time, space applications of quantum technologies remain a niche segment, representing only a fraction of the overall quantum technologies domain.
Most space-related quantum technologies innovations originate outside Europe, with the USA and China leading the global patent filings.
The majority of patent filings in quantum key distribution, cold atom clocks and cold atom interferometers are not from the same key players, pointing to a high level of specialisation and limited synergies.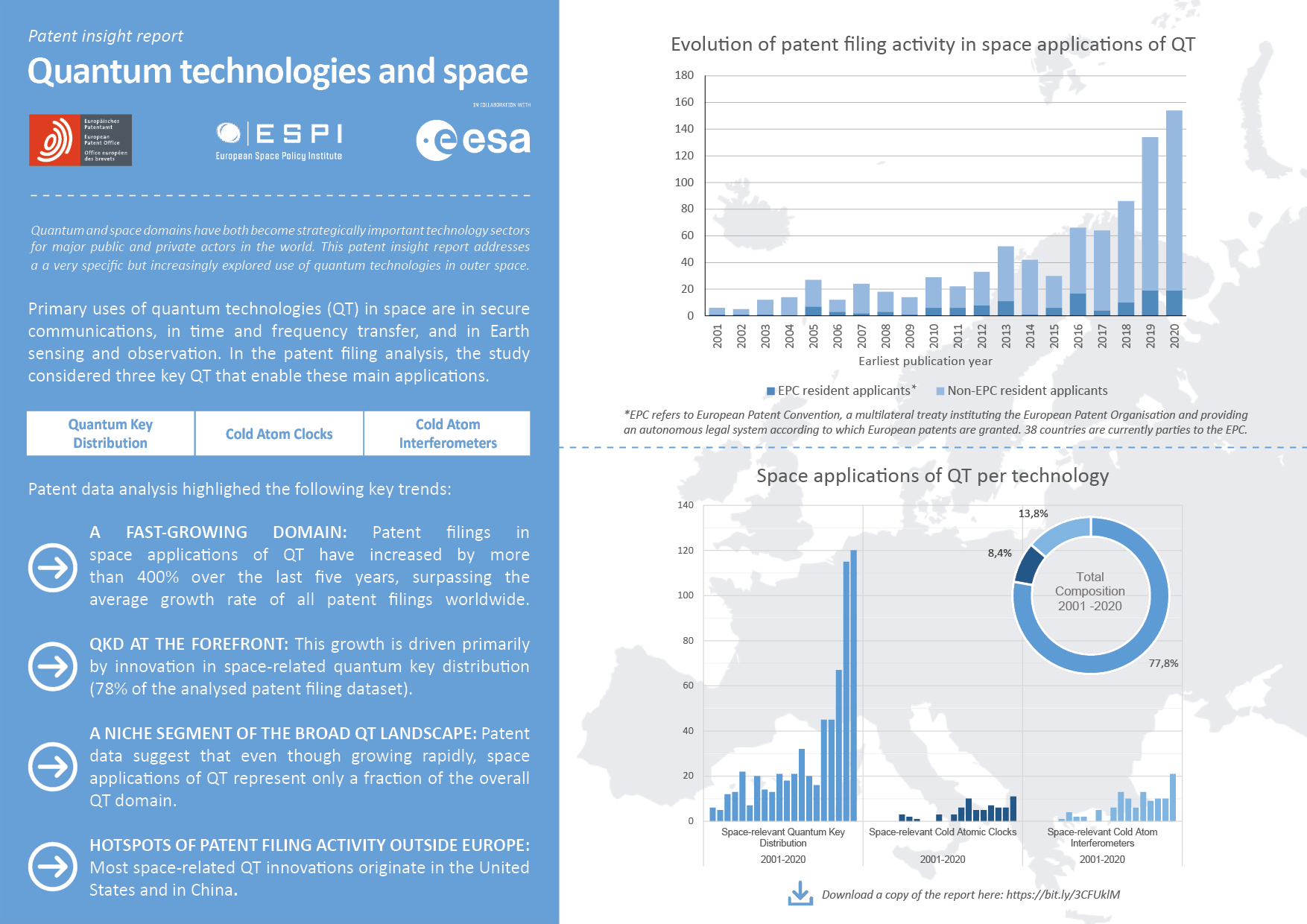 The great momentum observed in this area will likely spur future innovation and continue to foster the upward trend in patent filings. The growing political interest in QT and their applications around the globe, including in the space sector, is fuelling innovation in the field and generating tangible opportunities for new inventions. While the patent filing statistics suggest that Europe is not yet a forerunner in space-related QT innovation, this could change in the future with the recent introduction of major programmes such as the European Quantum Communication Infrastructure (EuroQCI).
Note – On 9 November 2021, ESPI has organised a webinar to present the key study findings and broader perspectives. Recordings and presentations from this webinar are available online.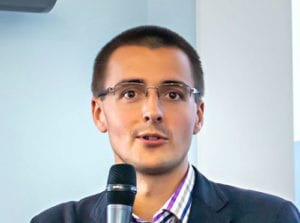 Tomas Hrozensky, (one of the authors of the study) joined ESPI as a Resident Research Fellow in July 2018. He holds MA and PhD in international relations from the Matej Bel University in Banska Bystrica, Slovakia. Previously, during three years as a full-time doctoral candidate he was also  a visiting Fulbright Scholar at the Space Policy Institute of the George Washington University in Washington , researcher for the Space Security Index 2017 project and regular participant to the UN COPUOS meetings within the Slovak delegation. During his university studies he also completed several internships in the state administration and international organisations. Tomas has several years of volunteer engagement experience in the Space Generation Advisory Council and in his home country he currently chairs the Slovak Space Policy Association NGO, which also serves as a national point of contact for Slovakia in the European Centre for Space Law. He can be reached at: [email protected]
For more articles please visit ESPI website (www.espi.or.at).