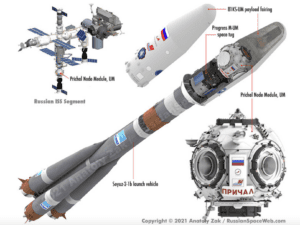 Edinburgh, 26 November 2021. – Russia's newest docking port, the Prichal module will arrive at the ISS today to provide five additional docking ports and fuel transfer capability to the space lab. Prichal is controlled by the Progress vehicle and will automatically dock to the Nauka multipurpose laboratory module.
Roscosmos cosmonauts Anton Shkaplerov and Pyotr Dubrov will be on duty during Prichal's arrival. To make room for the new module, the recently relocated, uncrewed Progress 78 cargo craft previously undocked from Nauka. The spacecraft has burned up in the Earth's atmosphere upon reentry.
Prichal is the Russian word for port or pier and it was launched over 23 years after the first module launched to the ISS. Both the launch and reaching orbit went smoothly. Prichal is spherical, weighs 5 tons and has an internal volume of 14 cubic metres.
This will be the second Russian module to arrive at the space station in less than four months. Nauka docked in July, causing quite a stir as unplanned firing of its thrusters rotated the ISS about 540 degrees.