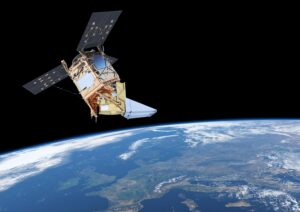 Edinburgh, 4 November 2021. – ESA and GHGSat announced at COP26 that they were to support the United Nations Environment Programme's new International Methane Emissions Observatory (IMEO).
Methane has more than 80 times the warming effect of carbon dioxide. Therefore, reducing emissions of this gas is one of the fastest ways to slow down the rate of global warming. IMEO was launched at the recent G20 meeting in Rome, with the aim to provide data to governments on their progress on climate action. The Group on Earth Observations, the Climate TRACE consortium, and the World Geospatial Industry Council launched a report at COP26 as well. This emphasises how essential it is to work together in mitigating the effects of climate change.
The Greenhouse Gas Monitoring from Space: A mapping of capabilities across public, private and hybrid satellite missions report aims to map satellite missions that monitor greenhouse gases. Copernicus Sentinel-5P and GHGSat were both featured in the report. GHGSat is a high-resolution greenhouse gas monitoring and data provider company, while Copernicus Sentinel-5P is a project dedicated to monitoring the Earth's atmosphere. 
ESA and GHGSat have been in a long-term data-sharing partnership through the Canada–ESA Cooperation Agreement. GHGSat launched its commercial high-resolution emissions monitoring constellation in 2019.