This Space Café WebTalk will feature Dr. Agnieszka Lukaszczyk, Senior Director for European Affairs at Planet, in conversation with Torsten Kriening, publisher of SpaceWatch.Global.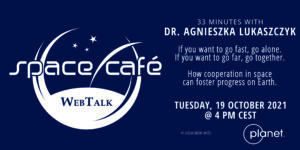 If you want to go fast, go alone. If you want to go far, go together – how cooperation in space can foster progress on Earth.
Agnieszka Lukaszczyk is a Senior Director for European Affairs at Planet. A Polish/American national has worked at the European Commission, Directorate-General for Internal Market, Industry, Entrepreneurship and SMEs, Space Data for Societal Challenges and Growth Unit. She also worked at the Directorate-General for Enterprise and Industry, Space Policy and Research Unit. Before she joined the Commission, Agnieszka was the Brussels Office Director for the Secure World Foundation. In addition, she is the former Chairperson and the former Executive Director of the Space Generation Advisory Council in Support of the United Nations Programme on Space Applications. Agnieszka also worked at the European Space Policy Institute as a research fellow. Agnieszka serves as the Vice President – Europe for the World Space Week And Sits on the Board Of Directors for the Women in Aerospace-Europe. She is currently pursuing a PhD in Space Security at the Polish Defence Academy.
During the time where our planet is facing serious issues with drastic biodiversity loss, constant threats to the environment, and overall climate change, the space community needs to work together to help mitigate those. We have to put political agendas aside and focus on solutions that give hope. And we have to work together to be effective, rather than trying to work separately with little success. There are key efforts that will stop most of the destruction and government institutions and industry alike need to equally contribute as these efforts are not to prove who is better but rather to create a better world for future generations.
The audience will have an opportunity to ask questions in dialogue with Dr. Agnieszka Lukaszczyk.
SpaceWatch.Global is a Switzerland-based digital magazine and portal for those interested in space and the far-reaching impact of the space sector.
By submitting this form / registering to this event with my contact information, I agree the information may be used to receive occasional communications from Planet about its products and services. I may unsubscribe at any time. Alternatively, we can offer you to watch the Linkedin Live Stream if you do not want to leave your data. Please be aware that by joining the live stream, you will not be able to directly interact with our speaker.
This Space Café WebTalk will be conducted in English on 19 October 2021 at 4 pm CEST.
Reserve your place today.