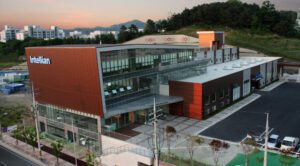 Edinburgh, 12 October 2021. – South Korean Intellian Technologies signed a US $60M supply deal with satellite fleet operator SES, Intellian announced. The company will equip SES with antennas that are a "mix of products operating on the ground and in the ocean," said Intellian.
The firm will provide Ka-band antennas for SES's MEO broadband constellation, O3b mPOWER. The next-generation satellites are expected to launch later this year. According to SES, each of the 11 O3b mPOWER satellites will deliver high-speed, fibre-like connectivity on a global scale.
Intellian previously became a major supplier to OneWeb, having signed three contracts since 2019, worth over US $94M. The company took part in developing OW1, a briefcase-sized, electronically steered user terminal for OneWeb as well. Intellian is currently building its second manufacturing plant to accommodate an increasing demand for LEO broadband user terminals.
The firm is committed to the European market which was demonstrated by opening their European headquarters and logistics centre in the Netherlands earlier this year.