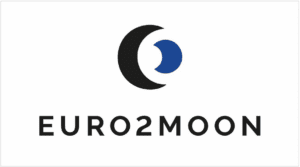 Edinburgh/Dubai, 28 October 2021. – Airbus Defense & Space, Air Liquide and ispace Europe have announced the joint creation of the Euro2Moon non-profit platform focusing on topics related to the exploration of the lunar surface.
Euro2Moon will bring in public and private expertise targeting the utilisation of lunar resources in a commercial and sustainable way. The objective is to create an exchange platform and promote it among European industries and institutions. The project will include recommendations on global roadmaps, commercial programs, as well as demonstration concepts. The topics addressed will comprise long-duration transport, scientific and commercial energy needs, and life support.
The Luxembourg-based association positions the European industry as a leader of the rising lunar economy. Euro2Moon is open to industrial- and research partners interested in the development of technologies and services of lunar resource management. Companies and organisations with headquarters or key activities in the EU or in a member state of ESA are welcome to join.
The European Space Resources Innovation Centre is the first non-founding member of the organisation. Former ESA Director General, Jean Jacques Dordain, became the first honorary member of Euro2Moon.