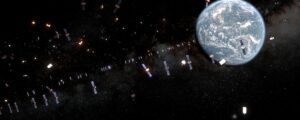 Edinburgh/Dubai, 28 October 2021. – The Swedish Space Corporation (SSC) and Bradford Space / ECAPS signed a Memorandum of Understanding for collaborative orbital debris removal services. The agreement was signed at the International Astronautical Congress 2021 in Dubai.
Common Earth orbits are getting increasingly congested with more companies deploying satellite constellations than ever before. This creates a hazardous space environment that could damage infrastructure and have a negative impact on Earth as well. Starting from 2024, SSC and Bradford Space will have orbital debris removal as part of their commercial services. 
'Square Rocket', a Bradford Space satellite bus will be inserted into orbit to de-orbit the debris. Targeted orbits are the Polar and Sun Synchronous ones. The service will help Sweden achieve a leading position in debris mitigation and space sustainability.
Launches are planned from Esrange Space Center in northern Sweden. The new spaceport facility is currently under construction and will be operational in 2022. 
SSC launched a program to contribute to a safer and more sustainable space earlier this year. The program consists of detection, tracking, and identification of space debris and other man-made objects in orbit as well as processing, cataloging and analysing data.