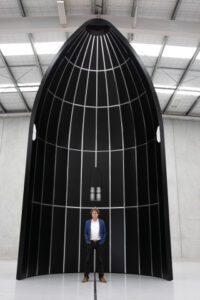 Edinburgh, 28 September 2021. – Rocket Lab has been awarded a contract for $24 million with the U.S. Space Force's Space Systems Command (SSC) to develop the upper stage system of the Neutron launch vehicle, Rocket Lab announced.
The agreement will help Rocket Lab to become a launch provider for the National Security Space Launch (NSSL) program. The contract is part of a $75 million research and development program approved by U.S. Congress. Other NSSL launch providers include SpaceX and United Launch Alliance.
The NSSL launches the United States' most critical missions.
Rocket Lab said that the aim of the program is to advance the upper stage technology of domestic launch systems. The launch vehicle's design will have to be altered to maximize mass-to-orbit capability, orbital insertion accuracy, and responsive dedicated launch for the U.S. government. 
With the contract, Rocket Lab will become a potential NSSL Phase 3 Launch provider from 2025, the company said.