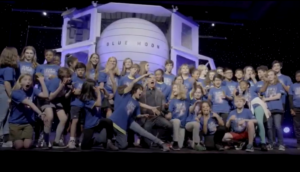 Edinburgh, 28 September 2021. – Two out of four: Blue Origin announced that New Shepard's 18th mission, NS-18, will carry four astronauts to space, including Dr Chris Boshuizen and Glen de Vries.
Dr Boshuizen is a former NASA engineer and co-founder of Planet Labs while de Vries is the co-founder of Medidata. The two other astronauts will be announced at a later date.
NS-18 follows Blue Origin's first human flight on 20th July with Jeff Bezos, his brother Mark Bezos, Wally Funk, and Oliver Daemen on board.
The commercial human space flight recently induced backlash in the UN and other institutions.
NS-18 will also carry thousands of postcards from Blue Origin's foundation, Club for the Future. The postcards were made by students and represent their dreams of the future. After they are carried to space and back, they will be mailed back to the students. The aim is to inspire them to seek STEM careers in the future.
NS-18´s lift-off is currently targeted for 12th October from Launch Site One in West Texas, Blue Origin said.