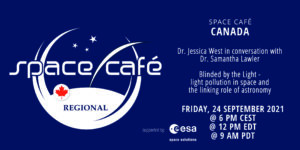 This Space Café Canada will feature Dr. Samantha Lawler, an orbital modeler and observational astronomer at the University of Regina, in conversation with Dr. Jessica West, Senior Researcher at Project Ploughshares and a friend of SpaceWatch.Global.
Blinded by the light
The night sky as we know it could be lost forever. What should Canada do to prevent this?
This episode of Space Café Canada will feature Dr. Samantha Lawler, whose work models how light pollution from the unregulated proliferation of mega-constellations of satellites will affect the field of astronomy, particularly in higher-latitude countries such as Canada, which will be under a high density of satellites. Astronomy is key to not only our exploration and use of space, deep space navigation, and planetary defense from asteroids, but to our deepening knowledge of Earth, our Solar System, and the Universe. Thus, light pollution will affect how all of us, from professional astronomers to backyard stargazers, observe and learn about space—and from space.
Join us for an in-depth conversation – including original visual materials by Dr. Lawler – on the causes, impacts, and possible solutions to light pollution in space and the broader role of astronomy in linking humans to space.
The audience will have an opportunity to ask questions in dialogue with Dr. Samantha Lawler.
SpaceWatch.Global is a Switzerland-based digital magazine and portal for those interested in space and the far-reaching impact of the space sector.
This Space Café WebTalk will be conducted in English on 24 September 2021 at 6 pm CEST.
We like to thank ESA Space Solutions for their continuous support.
Reserve your place today.