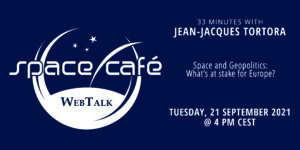 This Space Café WebTalk will feature Jean-Jacques Tortora , director of the European Space Policy Institute, in conversation with Torsten Kriening, publisher of SpaceWatch.Global.
Space and Geopolitics: What's at stake for Europe?
Since June 1, 2016, Jean-Jacques Tortora serves as the Director of the European Space Policy Institute. From 2007 to mid-2016 he was the Secretary-General of ASD-Eurospace, which is the trade association of the European Space Industry. From 2004 to mid-2007, he was head of the French Space Agency (CNES) office in North America and the Attaché for Space and Aeronautics at the Embassy of France in Washington, D.C.Previously he was Deputy Director for Strategy and Programs, responsible for the Industrial Strategy of CNES, the French Space Agency. Prior to that position, he was France's representative in the ESA Industrial Policy Committee and Joint Communication Board.
While the space sector has been remarkably stable since the beginning of the pioneering era, recent years have witnessed significant and rapid transformation across the space sector. Both the public and private sectors have a growing interest in the sector, with new players regularly emerging, and countries around the world are establishing their own frameworks to govern their national space activities. This raises some strong implications for international relations, as space at its core is a shared resource. The United Nations has taken steps to guide international cooperation, but the potential challenges that may arise without a clear and consensual legal framework are unprecedented. Despite current cooperation between nations, there is no doubt that without the establishment of a consensual international legal framework, Outer Space is destined to become a subject of geopolitical debate. In this increasingly complex and critical environment, the stakes are high for Europe, and the further development of global space issues might deserve a new debate among European member states.
The audience will have an opportunity to ask questions in dialogue with Jean-Jacques Tortora .
SpaceWatch.Global is a Switzerland-based digital magazine and portal for those interested in space and the far-reaching impact of the space sector.
This Space Café WebTalk will be conducted in English on 14 September 2021 at 4 pm CEST.
Reserve your place today.