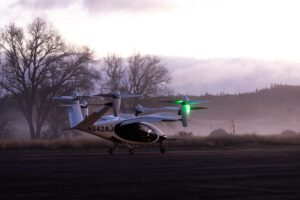 Edinburgh, 6 September 2021. – NASA began flight testing with Joby Aviation's all-electric vertical take-off and landing (eVTOL) aircraft on 30th August, NASA reported.
The testing forms part of the agency's Advanced Air Mobility (AAM) National Campaign. eVTOL aircraft could potentially be used as air taxis transporting people and cargo.
NASA is collecting vehicle performance, communication and acoustic data that can be used in modelling and simulation of future airspace concepts. This test will help closing gaps in current Federal Aviation Administration regulations to enable the integration of AAM aircraft into the National Airspace System.
Joby's eVTOL aircraft is to serve as a commercial passenger service in the future. After being incorporated into the national airspace, AAM will provide an affordable and efficient system for transportation. The system could include package delivery drones, air taxis as well as medical transport vehicles.
The first set of campaign tests, NC-1, is part of a multi-event campaign to accelerate airspace mobility in the U.S. There will be more complex flight scenarios and other industry vehicles tested at multiple locations over the next few years. The AAM project is a part of NASA's Aeronautics Research Mission Directorate.