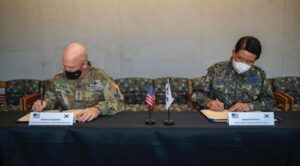 Edinburgh, 6 September 2021. – The U.S. Space Force and the Republic of Korea (ROK) Air Force reached an agreement on 27th August to join South Korea's air force in U.S. Space Force-led military drills, ROK Air Force said. The aim is to reinforce the U.S. Space Force's defence capabilities in outer space.
The bilateral meeting took place at Peterson Air Force Base in Colorado Springs, Colorado. The new partners will set up a joint consultative body on space policy as well. The two countries will share information on space surveillance and improve space operation capabilities like missile defence.
The joint consultative body will meet regularly to exchange information and personnel as well as for technical cooperation, ROK Air Force said. The U.S. Space Command also met with ROK Air Force to discuss further mutual military issues. These included the development of South Korea's own satellite navigation system, Korea Positioning System (KPS). The United States agreed to cooperate on the development of KPS in turn for South Korea joining the Artemis Accords in May.