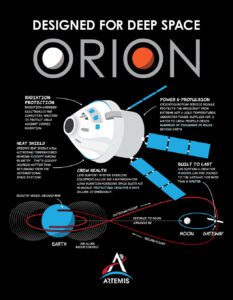 Paris. 27 September 2021. – NASA has awarded a contract the development of the Orion Main Engine (OME), which will be used on the Orion spacecraft as part of the Artemis program, to Aerojet Rocketdyne, the U.S. space agency and the company said.
Under the contract, which runs through 2032, Aerojet Rocketdyne will deliver up to 20 new OME engines for use on future Artemis missions beginning with Artemis VII, or to support other NASA-sponsored, deep space exploration missions, the company said.
The OME is a 6,000 pound-thrust bipropellant engine that is mounted on Orion's European Service module and will be built at Aerojet Rocketdyne's Los Angeles, California, and Redmond, Washington, facilities.
The contract includes certification of the OME design, production, and special studies and tasks, NASA said. The period of performance is from September 2021 through April 2032, with a maximum value of $600 million.
The OME will be integrated into Orion's primary power and propulsion component, the European Service Module, and will replace the Orbital Maneuvering System Engine repurposed from the Space Shuttle Program for the service module on Artemis missions VII through XIV. The contract also will allow for the procurement of additional engines for other NASA exploration programs.