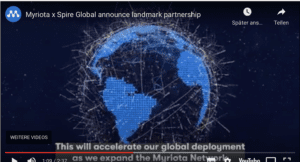 Paris, 27 September 2021. – The data, analytics, and space services provider Spire Global partners with Myriota to develop space-based Internet of Things (IoT) connectivity.
The Australian startup will use Spire's existing satellite platform and continue to scale the Myriota Network as Spire deploys new satellites, Spire said.
Myriota provides secure, low-cost, and long battery life satellite connectivity for IoT. The Myriota Network enables customers in industries like logistics, utilities, and agriculture to securely monitor and collect data globally using its long-lasting and low-cost IoT sensors.
The partnership will leverage Spire Space Services to accelerate Myriota's global service deployment timeline, expanding the Myriota Network using Spire low-earth orbit (LEO) nanosatellites, Spire said. Myriota is the first large-scale, commercial, IoT-focused customer of Spire.
Spire and Myriota plan to quickly ramp up Myriota's coverage to a global, low latency constellation, expanding Myriota's existing coverage in Australia and New Zealand to other markets including North America and Europe, Spire said.