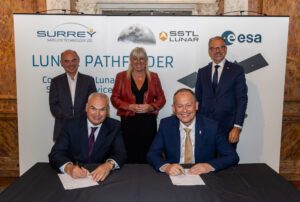 Paris, 17 September 2021. – Becoming an anchor customer: The European Space Agency (ESA) has signed up with Surrey Satellite Technology (SSTL) for communications services from Lunar Pathfinder, SSTL said.
ESA will be the anchor customer for services from Lunar Pathfinder which will be "the first dedicated lunar communications relay spacecraft" when it launches in 2024, SSTL said.
The agreement is to" deliver new opportunities for lower cost lunar science, technology demonstration and exploration missions", SSTL said.
In its strategic agenda, ESA had repeatedly said that it wants to put one of its priorities on commercialization; rather than only financing the development and demonstration of space programmes and platforms, it thus also aims at entering commercial relationships with them.
Lunar Pathfinder is supported by UK Space Agency funding via the European Space Agency (ESA); the UK company Qinetiq is working on the development of user terminals, specifically designed for compatibility to the service, for future users to plug and play.
ESA is also working with NASA on an agreement by which NASA would launch and deliver the Lunar Pathfinder spacecraft into its operational lunar orbit in exchange for data-relay services for their own missions, SSTL said.