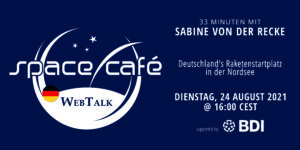 In dieser deutschsprachigen Ausgabe des Space Café WebTalk begrüssen wir Sabine von der Recke, Sprecherin der German Offshore Spaceport Alliance (GOSA), im Gespräch mit Andreas Schepers, Freund von SpaceWatch.Global und Host des Space Café Germany.
Deutschland's Raketenstartplatz in der Nordsee
Die German Offshore Spaceport Alliance (GOSA) wurde im Dezember 2020 gegründet und verfolgt das Ziel, von einer schwimmenden, mobilen Plattform aus der Nordsee Trägerraketen mit Nutzlasten bis zu einer Tonne ins All zu befördern. Für eine stark wachsende Anzahl von Start-ups und kleinen und mittleren Unternehmen, die raumbasierte Lösungen anbieten, bietet der Spaceport die historische Chance, in einem Zukunftsmarkt ein Cluster zu erschließen und dadurch ein wirtschaftliches Ökosystem zu schaffen, das vom Hersteller der kleinsten Schraube bis zur vollständigen Anwendung des Produkts alles umfasst. Der Spaceport ermöglicht einen sicheren Zugang zum All aus deutschem Souveränitätsgebiet und dem Herzen Europas und stellt damit auch für institutionelle Kunden einen kostengünstigen, optimierten Startpunkt für Raumfahrtprojekte in erdnahe Orbits zur Verfügung.
SpaceWatch.Global ist ein in der Schweiz ansässiges digitales Magazin und Portal für alle, die sich für den Weltraum und die weitreichenden Auswirkungen des Weltraumsektors interessieren.
Dieses spezielle Space Café WebTalk am 24.8.2021 um 16:00 wird auf Deutsch durchgeführt und vom BDI unterstützt.
This Space Café will be conducted in the German Language!
Sichert Euch Euren Platz!