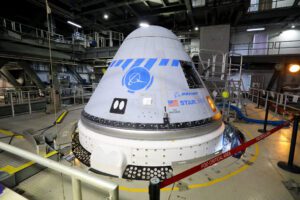 Edinburgh, 16 August 2021. – The launch of Orbital Flight Test-2 to the International Space Station (ISS) had to be postponed as the CST-100 Starliner's propulsion system had some issues. Several valves did not open as designed during the launch countdown on 3rd August, NASA said. The agency did not set a new date; observers speculated that the delay could be several months.
Engineering teams of NASA and Boeing have started to work on restoring the functionality of the valves inside United Launch Alliance's (ULA) Vertical Integration Facility, NASA said.
Boeing was able to prompt nine of 13 valves open using commanding, electrical, mechanical, and thermal techniques. Starliner is now being moved back to Boeing's Commercial Crew and Cargo Processing Facility in Florida for further investigation of the four propulsion system valves that remain closed.
The OFT-2 mission will launch Starliner on a United Launch Alliance Atlas V rocket from Space Launch Complex-41 at Cape Canaveral Space Force Station in Florida. Starliner will then dock to the ISS before returning to Earth. The end-to-end test flight is to prove that the system is ready to fly with crew aboard. NASA, Boeing and ULA will establish a new launch date once the issue is resolved.