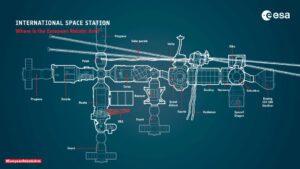 Paris, 23 July 2021. – The European Robotic Arm (ERA) is on its way to the International Space Station (ISS) after its launch from the Baikonur Cosmodrome in Kazakhstan, the European Space Agency (ESA) said.
The 11-m-long robot is travelling folded and attached to what will be its home base – the Multipurpose Laboratory Module, also called 'Nauka', ESA said. The Proton-M booster placed Nauka and ERA into orbit around ten minutes after liftoff, nearly 200 km above Earth, the agency said.
ERA is capable of 'walking' around the Russian parts of the orbital complex. It can handle components up to 8000 kg with 5 mm precision, and it will transport astronauts from one working site to another.
The Russian Nauka module ('nauka' means 'science' in Russian) was delayed for years due to technical problems that Roscosmos, the Russian space agency, finally solved.
Space News quoted Russian sources yesterday that Nauka suffered further problems after reaching orbit. The space agencies – NASA and Roscosmos – did not comment these rumors.