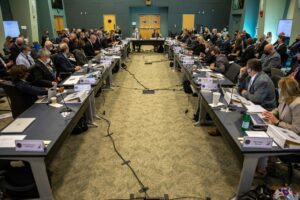 Paris, 23 July 2021. – NASA has cleared Boeing's Starliner astronaut ferry ship for its next orbital uncrewed test flight to the International Space Station (ISS).
Boeing's CST-100 Starliner spacecraft has been put atop a United Launch Alliance (ULA) Atlas V rocket at the Vertical Integration Facility at Space Launch Complex-41 at Florida's Cape Canaveral Space Force Station, the U.S. agency said.
Starliner's Orbital Flight Test (OFT-2) mission which is part of NASA's Commercial Crew Program is now slated to launch on 30 July, NASA said.
OFT-2 will test the end-to-end capabilities of Starliner from launch to docking, atmospheric re-entry, and a desert landing in the western United States. OFT-2 will provide valuable data that will help NASA certify Boeing's crew transportation system to carry astronauts to and from the space station.