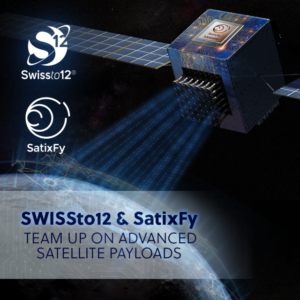 Paris, 25 June 2021. – Swissto12 and SatixFy cooperate to develop and sell telecom payloads for satellites in Medium Earth Orbit (MEO) and Geostationary Orbit (GEO), the companies said.
Swissto12 is a provider of 3D printed antenna and telecom system products for the aerospace and defense industries. SatixFy develops and manufactures advanced digital processing multibeam and beamforming products and satellite communications systems.
Both are now working together on multiple advanced payload programs and opportunities for telecommunication satellites, the companies said. SatixFy contributes its software-defined, high-bandwidth product portfolio in flexible digital payloads and beamforming technology.
Swissto12 contributes its active antenna technology that leverages upon its unique 3D printing. The two companies want to "seize the opportunity to co-engineer end-to-end payloads" which are optimized "for maximum performance of telecom missions".