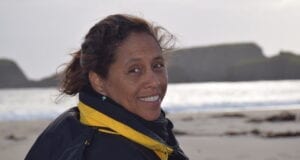 SpaceWatch.Global is pleased to present the 30th episode in our podcast series The Space Cafe Podcast: Yvette Hopkins, Shetland Space Center
Episode 030 features a special guest Yvette Hopkins.
In the middle of the Atlantic Ocean, a little north of Scotland, there is a small island that you can cross by car in just two and a half hours. In the far north, there is not much going on, lush meadows as far as the eye can see. And sheep, of course. On closer inspection, however, there is one place with a most curious combination of buildings that piqued our interest: a spaceport with its own pub. Naturally, we got curious and did a little research and uncovered a most fascinating story.
Click here to learn more about the Shetland Space Centre.
The Space Cafe Podcast brings our signature brand of engaging and relevant content from across the global space economy to you via an exciting new format. Together with award-winning Executive Producer, Markus Mooslechner (Terra Mater Factual Studios), our fortnightly podcast features highly interesting guests.
Each episode includes a review of important topics, as well as guest appearances and deep commentary from expert panellists from across the space sector.
Thanks to our global distribution partner, BookWire, the podcast is available on all major podcast platforms.










Tune in here: