by Luisa Low
The team from Down Under won silver and bronze at Spaceport America Cup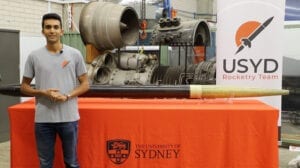 The University of Sydney Rocketry Team brought home silver and bronze this week after competing virtually in Spaceport America Cup, an annual international student rocketry competition that tests the very best of budding rocket scientists.  The Aussie team's good news comes at a troubling time for the harbour city, as Sydney enters a partial lockdown to contain the spread of the COVID-19 delta variant. The team placed second after the Norwegian University of Science and Technology in the 30,000 ft commercial off-the-shelf category for their solid-fuel rocket Firetail, and third in the Space Dynamics Laboratory payload challenge for their payload Tetratheca, both of which were designed and built at the University of Sydney.
The team from Down Under received high scores for the design quality of their rocket and payload and were the only Australian team to compete in the 30,000 ft category.
USYD Rocketry Team Executive Director and School of Aerospace, Mechanical and Mechatronic Engineering student, Alison Lockley said she was proud of the team's success, especially while competing virtually under pandemic conditions.
"We are so proud to have taken home silver for our design, fabrication and simulation of Firetail. Although this past year has been a challenge for everyone, the team's success has shown just how much can be accomplished by working collaboratively but remotely."

"We are buoyed by this recent success, and we look forward to continuing our journey with Spaceport America Cup in future years."

Firetail simulation. Credit: USYD Rocketry
Chief Engineer and Bachelor of Mechatronic Engineering student, Daniel Cook said the success came from working collaboratively as a team using learnings from the professional aerospace industry.
"Working collaboratively across a team of over 50 students, we implemented a rigorous systems-based approach based on what is used in the aerospace industry by organisations such as the European Space Agency to manage complicated projects with multiple interacting subsystems.

"Our success is also testament to what we have learnt in our undergraduate degrees at the University of Sydney, preparing us to work as aerospace professionals."
Normally held in Las Cruces, New Mexico, Spaceport America Cup ran a remote competition this year due to COVID-19 border restrictions. 75 university student teams from 16 countries competed virtually over a three-day online event. The University of Sydney team submitted their rocket designs and launch simulations to a panel of experts from the Experimental Sounding Rocket Association. The submission included a written technical report describing the design of the rocket and a 15-minute video presentation. These were reviewed by judges who then interviewed the team during a video call.
Associate Professor Matthew Cleary, who supervised the team said: "The USYD Rocketry Team is an ongoing success story. Not only are they a talented, tight-knit team with a passion for aerospace engineering, but they owe their success to unrelenting perseverance."
"Their hard work has not gone unnoticed: on top of their rigorous studies they have devoted much of their spare time to designing, tweaking and testing their rockets and payloads, which is exactly the sort of passion needed for a career in aerospace engineering."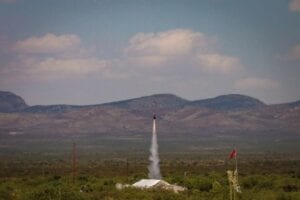 The competition has given the students a sense of purpose and a chance to socialise with others during the COVID-19 pandemic.
Alison Lockley said: "The project has really given us a sense of belonging at a time when everything else has felt quite disconnected."
This is the second time the rocketry team has been successful at Spaceport America Cup. In 2019 they were  the first Australian team to take part in the competition,  placing first in the 10,000 ft commercial off-the-shelf category. In the true spirit of Australian 'mateship' they also received an award for camaraderie and good sportsmanship.
This article was published first here https://www.sydney.edu.au/news-opinion/news/2021/06/24/covid-19-no-barrier-for-student-rocketry-team-s-success.html and adopted for SpaceWatch.Global.
Luisa Low is a freelance journalist and media adviser from Sydney, Australia. She currently manages Media and Public Relations for the University of Sydney's Faculty of Engineering.