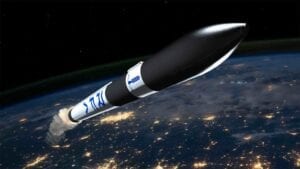 Paris, 23 June 2021. – Just two seconds: Rocket Factory Augsburg (RFA) successfully tested its full-scale staged combustion engine, the company said.
The test, which was carried out in Kiruna (Sweden), fired "the first staged-combustion engine in Western Europe", RFA said.
Staged combustion technology is characterized by higher efficiencies and performances compared to traditional rocket engine designs, the company explained.
"The partially unburnt exhaust gases from the turbopump are fed back to the main combustion chamber, thereby avoiding the release of unburned fuel. The recycling of the exhaust gases significantly increases the overall efficiency of the launch vehicle while reducing launch costs and also minimizing CO2-footprints of the launch activity."