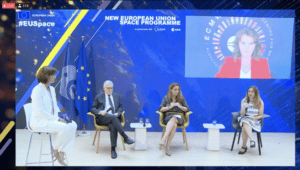 Paris, 22 June 2021. – The European Union (EU) will invest nearly €9 billion in European space programs over the period of 2021 to 2027, the European Space Agency (ESA) said.
EU and ESA signed a new Financial Framework Partnership Agreement (FFPA), to kick off the new EU space program, the agency said.
The agreement represents an EU investment of almost €9 billion in the period of 2021 to 2027, ESA said, "for ESA and European industry to design new-generation systems and programmes, crucial for the economy and a green and digital Europe".
"This funding adds to ESA's budget and thus consolidates an ambitious set of mandatory and optional programmes, as defined by ESA Member States," it said.
The agreement defines the roles and responsibilities of all partners, the European Commission, ESA and EUSPA, the new EU space programme agency, ESA said. "It will also ensure the level of autonomy of ESA that is necessary to efficiently develop and implement the programmes."
The new EU space programme reinforces flagship programs such as Galileo, Copernicus and Egnos, that were designed by ESA, the agency added. "It will also support new initiatives especially in the domain of secure connectivity, research and development and space commercialisation, where ESA will play a key role, also offering new funding opportunities for entrepreneurship".