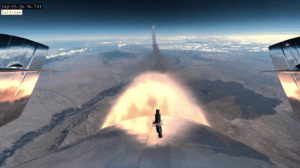 Paris, 24 May 2021. – Richard Branson's Virgin Galactic completed the first human spaceflight from Spaceport America, New Mexico, the company said.
The VSS Unity vehicle was released from the mothership VMS Eve with CJ Sturckow, as pilot-in-command, and Dave Mackay on board.
It sees New Mexico become the third US state to launch humans into space, the company said.
VSS Unity achieved a speed of Mach 3 and reached space at an altitude of nearly 90 kilometers before gliding smoothly to a runway landing at Spaceport America, Virgin Galactic said.
"Fifteen years ago, New Mexico embarked on a journey to create the world's first commercial spaceport,'' Richard Branson said. ''Today, we launched the first human spaceflight from that very same place."